Product Overview: Alliant Extra Lite Powder
Every container of Alliant Smokeless Powder is backed by a century of manufacturing experience and the most exacting quality control procedures in the industry. Chemical composition, grain shape and size, and overall density are constantly checked and tested in a ballistics lab to ensure consistency.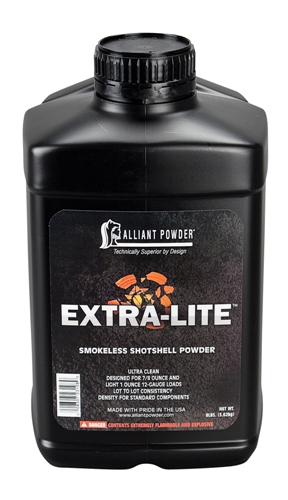 Alliant Extra Lite Powder in stock now for sale is a new shotshell propellant that provides less cost, less recoil and less headaches for those 12 gauge shooters transitioning from 1 1/8 ounce to 7/8 and 1 ounce loads.
Many shooters are looking for a powder that will have a density that allows use of standard components (wads and cases). These same shooters also want pressure levels that guarantee complete combustion across a broad temperature range while still being clean burning. Well… now they have it with Alliant Extra Lite Powder.
Warnings from the Manufacturer:
Do not exceed the loads displayed in the reloaders guide.
Never mix any two powders regardless of type, brand, or source.
Never substitute any smokeless powder for Black Powder or any Black Powder substitute.