Product Overview: Hodgdon CFE BLK Powder
Hodgdon CFE BLK Powder in stock now for sale is a spherical powder that was originally developed for subsonic 300 Blackout loads. This excellent rifle propellant utilizes the Hodgdon CFE formula, Copper Fouling Eraser, virtually eliminating copper fouling, clean burning and minimal muzzle flash.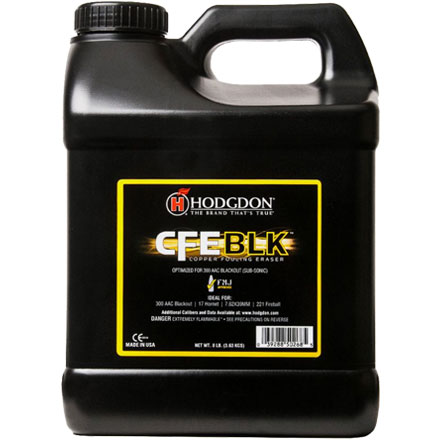 For competitive shooters and hand loaders seeking the perfect powder for target or self-defense loads, Hodgdon CFE BLK Powder provides optimum performance in cartridges like the 300 AAC Blackout, 17 Hornet, 221 Fireball, 6.8 Remington SPC and 7.62x39mm.
Warning About Smokeless Powder:
Do not exceed the loads displayed in the reloaders guide.
Never mix any two powders regardless of type, brand, or source.
Never substitute any smokeless powder for Black Powder or any Black Powder substitute.