CCI Small Rifle Primers In Stock Bench Rest #BR4 Box of 1000 (10 Trays of 100) Description
There is no such thing as a "too small" group in Benchrest competition. To create match-winning results, everything must be fine-tuned to the highest degree. That is why CCI Benchrest primers are recommended. Only the most qualified workers place the priming mix in the cups, ensuring that you get the same flame shot after shot. Benchrest Primers also make use of carefully chosen cups and anvils for enhanced consistency.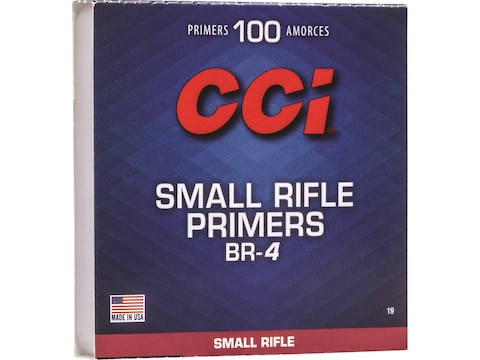 One of the two most major contributors to tiny groupings, according to an independent researcher, was the use of CCI Benchrest primers. CCI Primers are tested and upgraded on a regular basis. As a result, CCI primers are more sensitive, easier to seat, and more compatible than ever with progressive and automatic loading equipment. For the cleanest burn possible, they use current non-corrosive and non-mercuric initiator blends.